5 Things to like about "High School Love On"
I never thought I would post a series review for "High School: Love On (HSLO)." It was one of those dramas that I don't have any high expectations. I actually watch it as a sort-of 'drama-time filler' or those dramas I only watch during my spare time or while I wait for the subbed version of 'Wed/Thurs ten-pm dramas' to come out . In short, a drama I don't prioritize.
But it turned out that not having high expectation in HSLO was an advantage. After watching the first few episodes, the story soon grew on me. And much to my surprise, I anticipated each of its episodes.
So, here it goes, I list down five things that I like about KBS romantic teen fantasy drama series, "High School: Love On"
[Warning: Mild Spoilers, but still… it's a spoiler]
1.
The lovable - Kim Sae Ron
In KDrama-land, female characters have a responsibility to make the drama worth watching (at least this is a major rule in my drama rulebook). Aside from portraying her angel/grim ripper character really well, Kim Sae Ron shined in this drama (well, that's literally and figuratively.)
Lee Seul Bi's character would definitely fall to that category of adorable female leads. She has this innocent yet charming vibe throughout the whole series. I find her banters with the male leads, Infinite's Nam Woo Hyun and Lee Seong Yeol, really funny, natural and relatable at the same time. Also, her breakdown/crying scenes showed her potential for a melodrama. She actually reminded me of Yoon Eun-Hye in Princess Hours and Song Hye Kyo in Full House. Just give her the right script and she would no doubt do well.
On the side note: When the cast was introduced, I wasn't sure where I first saw Kim Sae Ron. Then it dawned upon me that she's the little girl from that Won Bin-starrer action flick called "Ahjussi" (The Man From Nowhere).
2.
Subplots
At first, it was confusing. They opened a lot of secondary stories that I was fearful the ending would suck. I have watched dramas like that and trust me when I say it's really disappointing.
But in HSLO, the side stories made the drama more interesting. Each character has their own story going on that you would end up caring for all of them. Yes, you'll also end up caring for the antagonists. Actually telling the stories of the 'evil' characters is a good way to justify the drama conflicts.
In HSLO's case, no character was left behind. And what I like the most is that the subplots ended well. I have to salute the writer for giving all of the subplots (as well as the main plot) a satisfying ending.
3. Side Romances
I have this weird tendency to care for the all-things-secondary in drama-land; whether it's the secondary plot, the dashing well-deserved second male lead or the secondary couples.
As I've said earlier, I like this drama's subplot and that includes side romances. The pairings were revealed gradually throughout the series. They sort of give in each episode a hint on who-might-end-up-with-who. The drama successfully showed how the relationship between second couple blossomed. You'll find different kinds of pairings here but I noticed that most of them were hate-to-love tropes.
[So here comes the SPOILER]
In HSLO, the secondary couple that I like the most is the TaeJoo couple: the bully's lackey Yang Tae-Ho (Baek Seung-Heon) and the hardworking class vice president Kim Joo-A (Jung Yoo-Min). Their on-screen chemistry was so evident that I ship them as soon as I watched their first interaction. I'm hoping to see more from the two actors whether it's another drama or just a cute twitter update like this.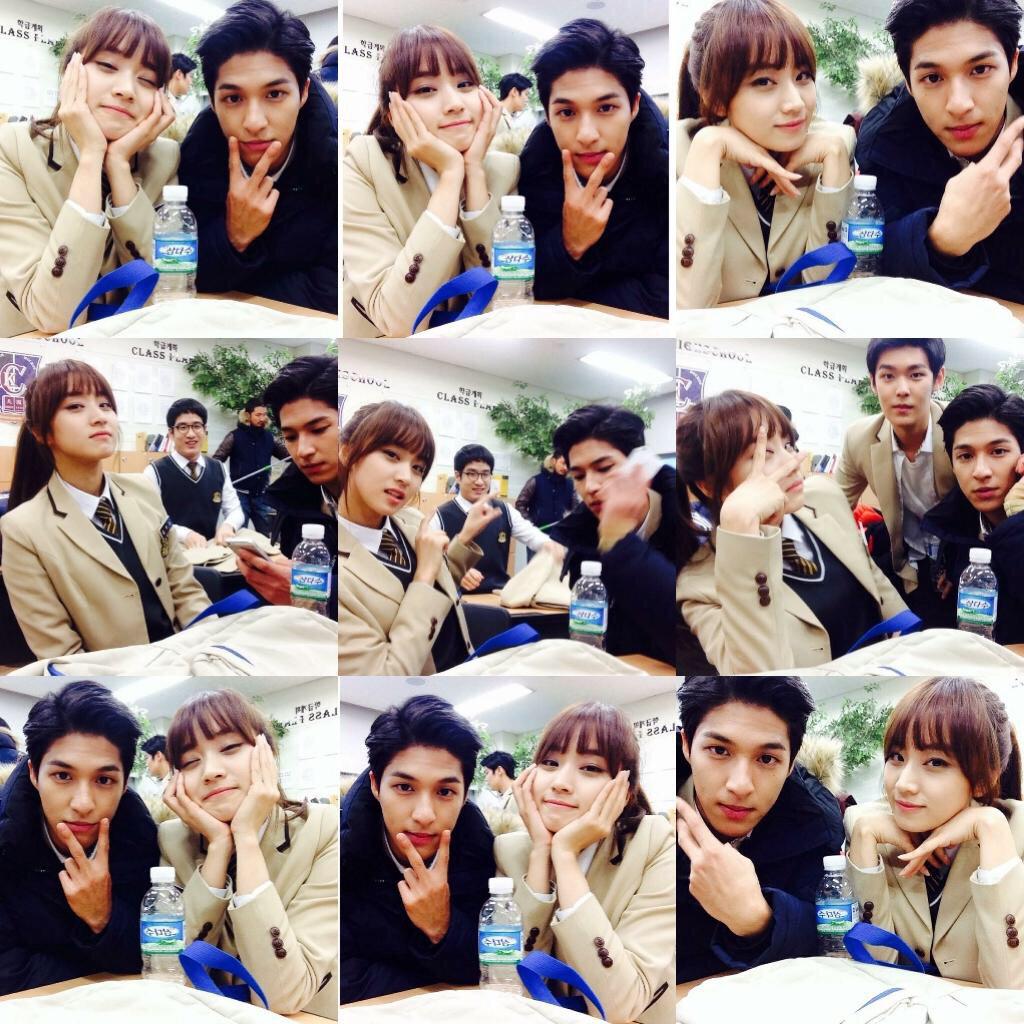 There are a lot of better teen romance dramas out there. So what makes HSLO stand out to others dramas? The drama showed how trials makes friendship that last. The relationship between the characters would tug memories from its audience's hearts. And this is what I look for in a drama. It should affect its audience in any way possible.
5. Being young
If you exclude the 'fallen angel' plot in the series, I could say that HSLO is one of those dramas that successfully depict the whirlwind life of being a teenager.
Here's where HSLO got it right. The story showed that when your young could be so vulnerable, full of angst and emotionally dependent. But at the same time, the series showed that being young has its advantage too; Like having one's drive to achieve goal, dreaming and doing something to make it happen, and having that innocent view on life. I have to applaud the actors and production staffs of HSLO for making a drama that show what it was to be young.
"High School Love On" may not be the kind of story that keeps you on the edge of your seat, but it's still a good drama to watch especially if you're just looking for a light-hearted coming-of-age series.
1.
KBS Official promotional poster for High School Love On
3.
https://twitter.com/bsh_u/status/539348528259010560
4.
Instagram.com/baekseungheon